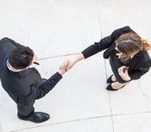 We Will Lead The Way
Our company was founded on the idea of helping those in need. The managing partners are retired Supervisory Detectives with extensive experience supervising and investigating the most serious crimes. Ever since our organization was established, we have endeavored to provide help where the need is greatest. We provide comprehensive and time sensitive investigations for all requests. Accuracy, diligence, detail specific and time critical submission is the philosophy Progressive I-3 Solutions is founded on.
Our agency utilizes the most COMPETENT personnel with vast experience conducting investigations. We only utilize personnel that have:
Local, State and Federal investigative experience.
Military Security and Intelligence experience.
Specialized Law Enforcement experience with Tactical Operations, Firearms, Canine Deployments, Undercover Operations, Covert Special Operations and Major Crimes Investigations.
Command Level Law Enforcement Experience.
Extensive experience with Witness and Suspect interviewing.
Trained for Computer Forensics.
Courtroom Testimony experience on the Local, State and Federal levels.
Private Sector Security and Lost Prevention experience.
New Jersey Certified Security Officers.
Progressive I-3 Solutions base what they do on these proven skills.
We already know what will work and what won't, because everything we do has been field tested and proven effective. This will save you time and money getting the answers you desire.